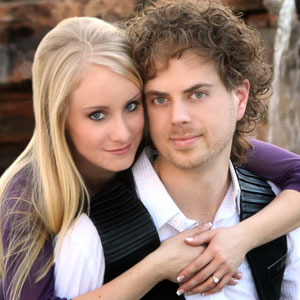 Talk about your stories just begging to be set to music.
Scott MacIntyre, a finalist on the eighth season of American Idol, tied the knot Thursday with longtime love Christina Teich in front of about 200 guests in Scottsdale, Ariz., the singer's rep confirms to E! News.
And guess who provided the soundtrack for MacIntyre's big day?
Why, the groom himself, of course!
MacIntyre composed or recorded all of the music played during the ceremony and reception, including his latest single, "I Wanna Be There."
"Christina is a beautiful person, whom I have known since well before Idol," MacIntyre said when the couple announced their engagement earlier this month. "She is my soul mate and the best way I know how to express my feelings for her is with a special song for this special day. 'I Wanna Be There' is about staying committed to someone through happiness, sorrow, tears and laughter. That's the relationship we have, and I'm excited to share the song at our wedding."
Corporate, sure, but still sweet.
The newlyweds said that they'll be honeymooning in Kauai.

Entertainment Plaza - TV, Movies, Sports, Music
http://members.shaw.ca/almosthuman99
Babe Of The Month
http://members.shaw.ca/almosthuman99/babeofthemonth.html
Hunk Of The Month
http://members.shaw.ca/almosthuman99/babeofthemonthman.html