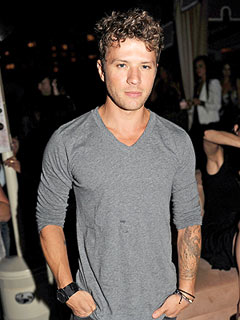 •
Ryan Phillippe
tried to stay incognito in a red and white baseball cap in the Lobby Bar of New York's Empire Hotel – but that didn't keep the actor from making friends at the bar. After ordering bourbon on the rocks, which he drank with a male pal, the actor was noticed by two female patrons who sent him (and his friend)
shots of Jameson
.
•
Justin Timberlake
left a very generous tip – 50%! – after his quick lunch at
Asia de Cuba
inside New York's Morgans Hotel. The singer-actor ordered tuna during his meal, and also split lobster mashed potatoes with his male friend. Also at the restaurant:
Joe Jonas
, who was dining with a female friend.
•
Desperate Housewives
's
Marcia Cross
has been enjoying summer with her family. The actress recently lunched with her 4-year-old
daughters Eden and Savannah
at Gladstones in Malibu, Calif., and the kids split a grilled cheese, while she ordered chowder and an iced tea. According to onlookers, the kids were well behaved during the cute family lunch.
•
Colombiana
star
Zoe Saldana
had a girls' night out at Mokai's Ransom party in Miami after her
big movie premiere
. The actress, who had a girlfriend in tow, sat next to the deejay booth and sipped Grey Goose cocktails. She also kept the party going past 3 a.m. – and requested some Lil Wayne tunes.
Entertainment Plaza - TV, Movies, Sports, Music
http://members.shaw.ca/almosthuman99
Babe Of The Month
http://members.shaw.ca/almosthuman99/babeofthemonth.html
Hunk Of The Month
http://members.shaw.ca/almosthuman99/babeofthemonthman.html