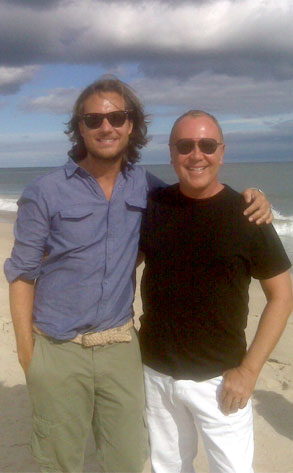 We loves us some Michael Kors around here. And, so, we were thrilled to report yesterday that the Project Runway judge had finally tied the knot with his longtime partner Lance LePere.
Naturally, we couldn't wait to see a picture of the couple following their ceremony on Dune Beach in Southhampton, N.Y.
Unfortunately, the shot sent out as the duo's official wedding photo took us a bit by surprise. Sure, they both look great and happy and all, but seriously, couldn't they have afforded a better photog? This pic just screams cell phone camera, no?
"To marry someone as wonderful and special to me as Lance, barefoot on a glorious beach, is more than I could have dreamed of," Kors said in a statement that accompanied the photo.
OK. So, maybe we're being a bit harsh. After all, when you put it that way, Michael, who needs perfect pictures, right?

Entertainment Plaza - TV, Movies, Sports, Music
http://members.shaw.ca/almosthuman99
Babe Of The Month
http://members.shaw.ca/almosthuman99/babeofthemonth.html
Hunk Of The Month
http://members.shaw.ca/almosthuman99/babeofthemonthman.html