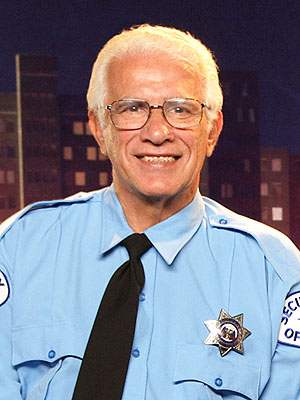 Talk show host Jimmy Kimmel's beloved Uncle Frank Potenza, a former police officer who became a frequent guest comedian on
Jimmy Kimmel Live!
, died Tuesday morning at the age of 77.
Kimmel, whose show is on hiatus until next month,
Tweeted,
"thank you for your kind words about a very kind man - my Uncle Frank - who passed away this morning."
Prior to engaging in hi-jinx with his nephew on the ABC late-night show, Potenza was a Korean War veteran who worked 20 years as a New York City police officer. He also worked for 20 years as a security guard at Caesar's Palace in Las Vegas and at St. Patrick's Cathedral in New York.
In 2003, Kimmel asked Potenza to move to Los Angeles to join his then-upstart talk show as security guard and on-air contributor.
"During his nine-year run on-air, 'Uncle Frank' contributed many great moments to
Jimmy Kimmel Live!
," the show said in a statement. "He was beloved by his co-workers and considered an Uncle to all. His kindness and humor will be missed by everyone he touched."
Entertainment Plaza - TV, Movies, Sports, Music
http://members.shaw.ca/almosthuman99
Babe Of The Month
http://members.shaw.ca/almosthuman99/babeofthemonth.html
Hunk Of The Month
http://members.shaw.ca/almosthuman99/babeofthemonthman.html