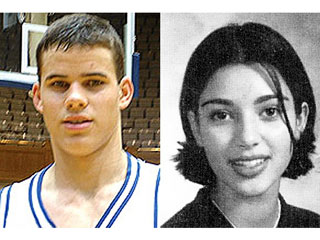 Cute, but maybe not wedding-album worthy.
Here are Kris Humphries, now 26, and
Kim Kardashian
, 30, back in their high-school freshmen days. He wasn't quite the strapping lad of 6' 9" he is today, nor was she the voluptuous beauty – yet.
Minnesota native Humphries attended Hopkins High School in Minnetonka, a suburb of Minneapolis, while Kardashian's alma mater was the private, all-girls' Roman Catholic school Marymount, in Bel Air, Calif.
Saturday, in case you haven't heard, the two are
tying the knot
.
E! News
will air footage from the wedding Sunday at 6 p.m. ET/PT, and a two-part special,
Kim's Fairytale Wedding: A Kardashian Event
, will air Oct. 9 and 10,
only on E!
For exclusive personal photos from Kim's fairytale wedding and all the details, pick up the new issue of PEOPLE, on newsstands next week.
Entertainment Plaza - TV, Movies, Sports, Music
http://members.shaw.ca/almosthuman99
Babe Of The Month
http://members.shaw.ca/almosthuman99/babeofthemonth.html
Hunk Of The Month
http://members.shaw.ca/almosthuman99/babeofthemonthman.html