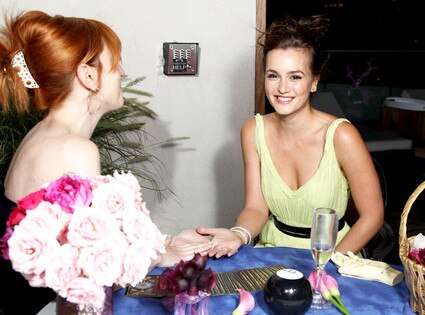 Although there's enough drama going on in Leighton Meester's family to fill an entire storyline of Gossip Girl, the actress put on a happy face last night during her first public appearance since she and her mom sued each other.
Leighton was picture-perfect at the launch party for Vera Wang's Lovestruck fragrance in New York City. Then again, she kind of had to be...
Leighton is the spokesperson for the new perfume, so she put her best foot forward for the bash at the James Hotel.
The actress came directly to the soiree from the Gossip Girl set and was in great spirits. "She seemed positive and upbeat," an eyewitness tells me, adding that she was patient and friendly during the mandatory picture session.
"She was very interested in getting her palm read. It was more than just a photo op," a guest tells me of Leighton's psychic encounter above.
Hopefully, the palm reader foresaw an end to the mother-daughter drama in the future!

Entertainment Plaza - TV, Movies, Sports, Music
http://members.shaw.ca/almosthuman99
Babe Of The Month
http://members.shaw.ca/almosthuman99/babeofthemonth.html
Hunk Of The Month
http://members.shaw.ca/almosthuman99/babeofthemonthman.html