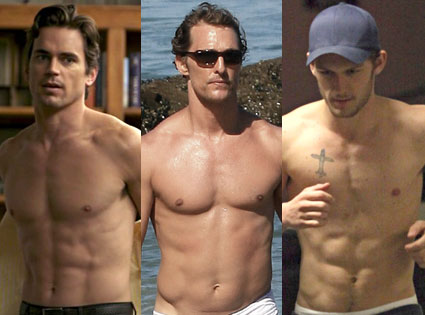 Did someone order an 18-pack?
If you think of yourself as one who appreciates the beauty of a man's hot half-naked bod parading on the big screen, then we can assume you're anticipating the release of Magic Mike just as much as the rest of us.
And if seeing Channing Tatum and Alex Pettyfer play strippers isn't reason enough, maybe adding heartthrobs Matthew McConaughey and Matt Bomer to the list will do the trick.
According to The Hollywood Reporter, the White Collar star has just been cast in the Steven Soderbergh film and Variety reports that McConaughey will be joining him.
While Bomer takes on the role of a naughty dancer, McConaughey will play Dallas, a former exotic dancer who owns Xquisite, the club where "Magic Mike" works.
So who the eff is "Magic Mike"?
That would be Tatum, the head dry-humping honcho who takes a younger male stripper (Pettyfer) under his wings to teach him the tricks of the trade both on- and offstage.
Here's the best part: The whole movie is full-frontal! We kid.
But there is an interesting fact about this flick—it's based on Tatum's real-life experience as a 19-year-old stripper in Tampa.
Now if only this was coming out in 3-D...

Entertainment Plaza - TV, Movies, Sports, Music
http://members.shaw.ca/almosthuman99
Babe Of The Month
http://members.shaw.ca/almosthuman99/babeofthemonth.html
Hunk Of The Month
http://members.shaw.ca/almosthuman99/babeofthemonthman.html