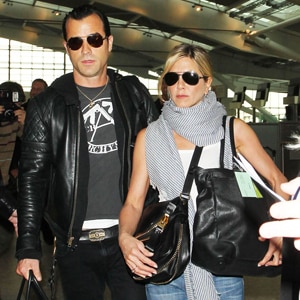 Jennifer Aniston's owned a Beverly Hills mansion, dropped millions on a New York City pad, has made beaucoup bucks making movies and is one of the highest-paid stars in Hollywood.
So dropping $12,000 on a jacket for her boyfriend Justin Theroux doesn't seem outrageous, right? It was rumored to be once worn by James Dean. Plus, it was a gift for her man's 40th birthday.
Did Jen really drop the dough on the vintage leather? This rumor is...
So false!
A source close to the Horrible Bosses star tells E! News no way Jen bought the jacket for her man.
Rumors had our favorite Friend gifting Theroux the coat for his big B-day milestone, but it never happened. The jacket in question was the one supposedly worn by Dean in Rebel Without a Cause.
Last month, the leather- and denim-loving Theroux was spotted holding hands with his lady in London wearing a black leather jacket, but it is clearly not the collared one Dean wears in the film.
Jen and Justin have been going strong since coming out as a couple in May, even though things got off to a rocky start after the actor reportedly dumped his girlfriend of 14 years for Aniston.

Entertainment Plaza - TV, Movies, Sports, Music
http://members.shaw.ca/almosthuman99
Babe Of The Month
http://members.shaw.ca/almosthuman99/babeofthemonth.html
Hunk Of The Month
http://members.shaw.ca/almosthuman99/babeofthemonthman.html