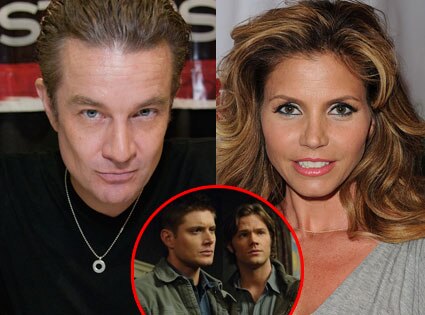 Buffy fans, did you ever fantasize that Cordelia and Spike would run away and get hitched? No? Not even just a little bit?
Well, apparently the creative minds over at Supernatural did, 'cause they are bringing together a pretty fantastic Buffy/Angel duo: Charisma Carpenter and James Marsters. And yes, they will be married.
And that's not the only Joss Whedon alum casting.
Jewel Staite, of Firefly, also will play the grown-up version of Sam's first-season kiss in a seventh-season episode directed by star Jensen Ackles.
We just hit Supernatural's set in Vancouver, and Jared Padalecki tells us this of working with the Whedonverse peeps: "It's always nice to have somebody from the genre because they get the acting style, it's a pretty specific acting style in my opinion when you're doing a genre like this. It can't be overdramatic. It has to be kind of subtle, it has to be real." As for his thoughts on Jewel: "She's a tremendous actress and a sweetheart. I met her a few years ago at a sci-fi convention funnily enough and I kind of see her here and there and it was nice to get to work with her."
We'll see Jewel in Supernatural's third episode, and James and Charisma will pop in a bit later in the season.
"This episode is 'Bewitched gone wrong," showrunner Sera Gamble reveals to TVLine, which first reported the casting. "[It was] all upside for this successful man (Marsters) while he was married to the witch (Carpenter), but now that he's pissed her off, the whole town is paying the price."
Supernatural has a history of casting Whedon peeps: Amber Benson (Buffy), Julie Benz (Buffy, Angel), Mark Sheppard (Dollhouse, Firefly) and Amy Acker (Dollhouse, Angel) have all appeared on the CW show.

Anyone else having a Buffy-gasm over this news?
Entertainment Plaza - TV, Movies, Sports, Music
http://members.shaw.ca/almosthuman99
Babe Of The Month
http://members.shaw.ca/almosthuman99/babeofthemonth.html
Hunk Of The Month
http://members.shaw.ca/almosthuman99/babeofthemonthman.html