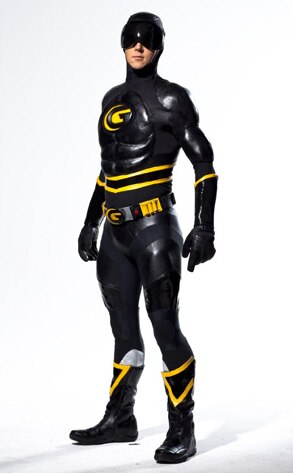 This True Blood hunk looks much better shirtless and sweating in Bon Temps, but no matter.
We even like him when he's all covered up in a makeshift black-and-yellow vinyl superhero suit.
In a far departure from his television alter ego...
Ryan Kwanten stars in Griff the Invisible (in theaters today), a quirky Australian film about a nerdy office worker who transforms himself into a crimefighting vigilante.
The superhero suit is as uncomfortable as it looks.
"It took a good three hours and a good three wardrobe ladies to get into," the Aussie actor recently told me. "And believe it or not, it took longer getting off because they kind of had to sew me in and then they had to sew me back out. There was no time for potty breaks."
So what happened when nature did come calling?
"You hold on and you hope that your constipated face doesn't come off too bad on camera," he Kwanten cracked. "It was fun to be standing on the streets of a city in a superhero outfit. People sort of leaving bars and giving me looks up and down thinking, 'What the hell is this guy doing?'"
Funny enough, Kwanten's True Blood star status didn't help him land the role with director Leon Ford.
"Leon said, 'Well, all I've really seen of you is True Blood, and the characters are unbelievably different,'" Kwanten remembered. "So I ended up putting myself on tape like four or five times. Eventually I convinced him, through perseverance more than anything else, that I was the guy."
Now, if we could just get him cast in Steven Soderbergh's male stripper flick.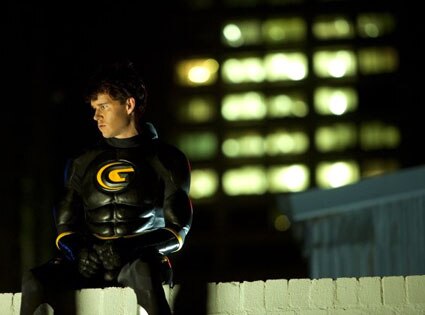 Entertainment Plaza - TV, Movies, Sports, Music
http://members.shaw.ca/almosthuman99
Babe Of The Month
http://members.shaw.ca/almosthuman99/babeofthemonth.html
Hunk Of The Month
http://members.shaw.ca/almosthuman99/babeofthemonthman.html