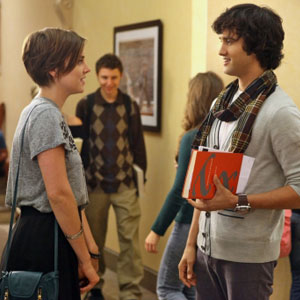 Patrick Wymore/The CW
The kids of 90210 are all grown up! No more high school. It's on to college and the real world and...a porn business?
Michael Steger, who plays Navid Shirazi, talked to us about how he'll be legitimizing his father's pornography company and what's ahead for him and Silver (Jessica Stroup).
Plus, he dished about a pretty cool twist in the new season...
MORE: Casting Scoop: Which 10 Things I Hate About You Hottie Is Joining The Secret Circle?
"My entire family decides to leave the country, except my sister decides not to get on the plane," he reveals to us. "And Navid is thrown off because she is begging to move in with him and Silver, and that's a no-go because all Navid wants to do with Silver is live in private life."
But of course Navid isn't the type of dude to leave his sister out on the street all alone and cold! Well, cold for Beverly Hills. "Navid and Silver are forced to be parents," he continues. "They are nowhere near that level of maturity. It's pretty hilarious how they handle it. Navid is a little over-the-top with his sister."
When Navid isn't raising his kid sister with an iron fist, he's taking over his father's porn business. But don't go thinking we'll be seeing any NSFW scenes in the new season.
"What I do [with the business] is different. How I legitimize my father's porn company is by just cleaning house," Michael says. "I get rid of every attachment I have with my father and we are producing music videos, training films, shooting commercials. Navid is already making a huge sacrifice. He moved in with Silver, sold his car and he is putting all of his money toward his business."
Told you these 90210 kids are growing up fast.
First they're having fights in the school hallways, and before you know it there's a kid to raise and a porn business to run.
You'd think that Navid would barely have time for his love Silver, right? You'd be right.
"Navid really tries to get closer to Silver," he spills. "He hires her as his assistant and they both have their own offices in Shirazi studios, so it's a nice romantic thing in the house. It is very cool, but it also causes a lot of problems."

Entertainment Plaza - TV, Movies, Sports, Music
http://members.shaw.ca/almosthuman99
Babe Of The Month
http://members.shaw.ca/almosthuman99/babeofthemonth.html
Hunk Of The Month
http://members.shaw.ca/almosthuman99/babeofthemonthman.html