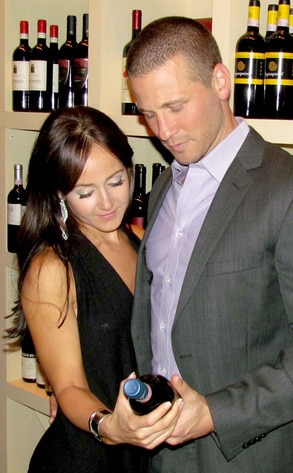 So far, so good!
Bachelorette star Ashley Hebert is moving into her fiancé J.P. Rosenbaum's Manhattan pad, and the two hit the town together last night, joining his brother Roy and his girlfriend, Andrea, for dinner.
But before their double-date night, Ashley spent her evening at the spa with another former Bachelorette...
Ash hit a BlissSpa event on Wednesday with new mom Jen Schefft. Oh, and she also went shopping while J.P. punched the clock at his construction management job.
After her terribly tough day, she met up with her man at Flatiron restaurant Zio for double-date night.
"They sat at the chef's table and kicked off the night with cocktails before switching to wine," a source tells me. The group enjoyed saffron risotto cakes, pan-seared grouper and ricotta dumplings.
Although the restaurant hosted them, J.P. left a generous cash tip before the couples went their separate ways.
J.P. hung with a Bachelorette alum himself this week, too: his former competitor Ames Brown, whom Ash ultimately ended up kicking to the curb.
"Good times last night with @AmesBrown. Great seeing u!" J.P. tweeted.
Sounds kind of awkward to us, but glad to see Ames isn't a sore loser.
Entertainment Plaza - TV, Movies, Sports, Music
http://members.shaw.ca/almosthuman99
Babe Of The Month
http://members.shaw.ca/almosthuman99/babeofthemonth.html
Hunk Of The Month
http://members.shaw.ca/almosthuman99/babeofthemonthman.html