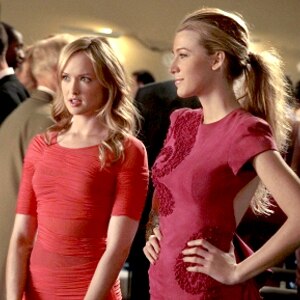 Forget Chair, Dair, Derena, Serenate, Blate and Rufly. We all know who the real power couple on Gossip Girl is: the gorgeous stars and their equally gorgeous clothes!
It's no secret that the CW show is just as well known for its fashion as it is for its never-ending drama. Remember when you couldn't walk down the street without seeing a young girl wearing a headband and colored tights? You can thank "dictator of taste" Blair Waldorf (Leighton Meester) for that.
However, we recently found out one of the Gossip Girl costume department's biggest secrets...
It's almost all borrowed!
In an exclusive behind-the-scenes featurette from the season-four DVD set, costume designer Eric Daman reveals that almost all of the fancy-schmancy designer duds are loaned to the show. "The gorgeous dresses and everything we see in the show, a lot of them are actually borrowed from designers," the oh-so-stylish one says. "A lot of designers want to get their wares on Gossip Girl. So we get the clothes in, they stay with us for three to four weeks, and then [they] go back to the designer showroom."
Check out the story behind the clothes and catch a glimpse of the costume department, which executive producer Joshua Safran calls "crazy."
Don't forget, Gossip Girl: The Complete Fourth Season hits stores on Tuesday, Aug. 23, on DVD and Blu-ray. You know you want to buy it. XOXO.
Entertainment Plaza - TV, Movies, Sports, Music
http://members.shaw.ca/almosthuman99
Babe Of The Month
http://members.shaw.ca/almosthuman99/babeofthemonth.html
Hunk Of The Month
http://members.shaw.ca/almosthuman99/babeofthemonthman.html