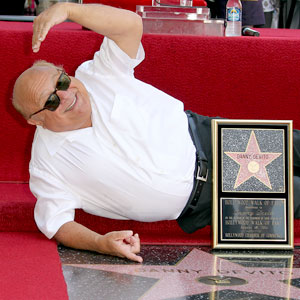 And the 2,445th star of the Hollywood Walk of Fame goes to...
Danny DeVito! Finally!
After winning an Emmy and Golden Globe, the It's Always Sunny in Philadelphia actor celebrated his 40th anniversary in show business by being granted one of the highest honors in Tinseltown today.
The ceremonious event was held in connection with the FX series' sixth-season DVD release (out Sept. 13), and included John Landgraf, president and general manager of the network, as a guest speaker.
"The question is, do I get to take this home or do we leave it here?" DeVito joked about his latest award. "Or do I move into this store over here, and every day I come and polish it?"
DeVito became a household name with the role of caustic dispatcher Louie De Palma on Taxi, which ran on ABC from 1978-82. He has also produced hits like Erin Brockovich and Pulp Fiction.
Congrats, Danny!

Entertainment Plaza - TV, Movies, Sports, Music
http://members.shaw.ca/almosthuman99
Babe Of The Month
http://members.shaw.ca/almosthuman99/babeofthemonth.html
Hunk Of The Month
http://members.shaw.ca/almosthuman99/babeofthemonthman.html