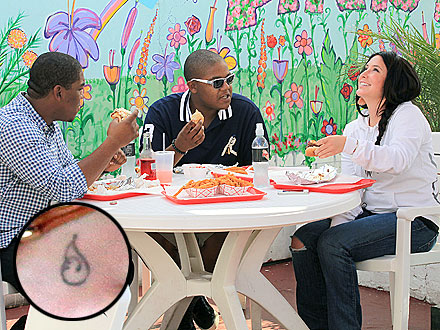 In the Palin clan, "T" stands for "family."
Budding
reality star
Bristol Palin, 20, had a cursive "T" inked on the top of her right foot – and her rep tells PEOPLE that "T is for Tripp, Trig, Track and Todd," her son, two brothers and father, respectively.
Palin debuted the new tattoo at a lunch date at Pink's Hot Dogs in West Hollywood, Calif., on Thursday along with costars Kyle and Chris Massey.
The eldest daughter of Sarah Palin recently moved out of her Arizona digs and back to Los Angeles with Tripp, 2½, to live with fellow season 11
Dancing with the Stars
contestant Kyle Massey, 19, and his brother Chris, 21, for a new as-yet-untitled reality show.
"Kyle and Bristol hit it off from pretty much the first day they met," Chris told PEOPLE recently. "We all became really good friends. Over the whole course of the show, we only got closer and closer. Both of our families connect well. It's one big happy family."
Entertainment Plaza - TV, Movies, Sports, Music
http://members.shaw.ca/almosthuman99
Babe Of The Month
http://members.shaw.ca/almosthuman99/babeofthemonth.html
Hunk Of The Month
http://members.shaw.ca/almosthuman99/babeofthemonthman.html