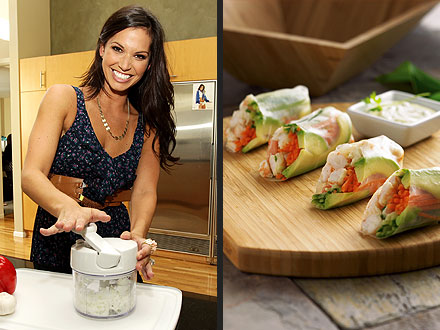 Melissa Rycroft is settling into her new life in Los Angeles by getting busy in the kitchen.
The
Bachelor
and
Dancing with the Stars alum
recently celebrated her move from Texas to California with a housewarming party hosted by the Pampered Chef.
At the event, Rycroft and her girlfriends, including
DWTS
's pro
Cheryl Burke
, learned how to whip up some recipes including California spring rolls, tapenade turkey meatballs, white chocolate cupcakes and raspberry tequila sangria.
Also on hand for the festivities: the reality star's 6-month-old
daughter, Ava Grace
.
Aside from having her kitchen stocked with the latest cookware by the Pampered Chef, a product donation was made in Rycroft's name to the local L.A.-area Feeding America Food Bank.
Want to try one of the dishes from Rycroft's party? Check out the recipe below:
The Pampered Chef's California Spring Rolls
Sauce
½ cup mayonnaise
2 tbsp rice vinegar
2 tbsp chopped fresh cilantro
4 tsp wasabi paste
1 tsp sesame oil
Spring Rolls
1 lb cooked shrimp, peeled and deveined, tails removed, coarsely chopped
¼ tsp salt
2 large carrots, peeled
1 medium seedless cucumber
2 avocados
12 (8-in./20-cm) rice wrappers
1 cup water
1. Combine sauce ingredients in small batter bowl; whisk until blended. Reserve ¼ cup of the sauce for shrimp. Cover remaining sauce; refrigerate until ready to serve. Coarsely chop shrimp using chef's knife. Combine shrimp, reserved sauce and salt in classic batter bowl; mix well. Cut carrots and cucumber into long julienne strips. Peel and slice avocados into 24 slices.
2. Moisten both sides of one rice wrapper with water using a basting brush. Arrange a portion of the carrots and cucumber on half of the wrapper to within ½ in. of edges. Top with ¼ cup of the shrimp mixture and avocado slices. Fold sides of wrapper in toward center; roll up tightly. Repeat with remaining wrappers, vegetables and shrimp. Cut spring rolls in half diagonally. Serve with sauce.
Entertainment Plaza - TV, Movies, Sports, Music
http://members.shaw.ca/almosthuman99
Babe Of The Month
http://members.shaw.ca/almosthuman99/babeofthemonth.html
Hunk Of The Month
http://members.shaw.ca/almosthuman99/babeofthemonthman.html