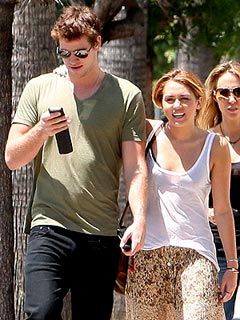 • Three's not a crowd with Thor is involved!
Chris Hemsworth
was spotted grabbing a bite to eat at M Street Kitchen, one of
his favorite new restaurants
, in Santa Monica, Calif., with younger brother
Liam Hemsworth and his on-again girlfriend
Miley Cyrus
. Dining on the patio, the trio enjoyed the rainbow and miso salmon sushi rolls, grilled fish tacos and shredded spinach salad.
•
John Krasinski
and wife
Emily Blunt
kept dinner casual on the patio of West Hollywood's
Chateau Marmont
. Krasinski, in a navy hoodie and jeans, led much of the conversation while he and his wife dined with another couple – spaghetti bolognese for him, salad for her. The two were definitely enjoying the night and their company – and "everyone was laughing and smiling," an onlooker says. At one point Krasinski even led the group in a toast.
•
Leonardo DiCaprio
and
Blake Lively
worked up an appetite shopping at
Fred Segal
in Santa Monica. The 23-year-old
Gossip Girl
actress wore a blue dress that matched his blue shirt, and both were hiding under their hats as they stopped by Umami Burger to pick up some food.
•
Lovebirds Emma Roberts and Chord Overstreet
dined at STK Los Angeles. The dressed-down couple came in around 6:30, both sporting jeans and T-shirts, and ordered filets and ice water.
Entertainment Plaza - TV, Movies, Sports, Music
http://members.shaw.ca/almosthuman99
Babe Of The Month
http://members.shaw.ca/almosthuman99/babeofthemonth.html
Hunk Of The Month
http://members.shaw.ca/almosthuman99/babeofthemonthman.html