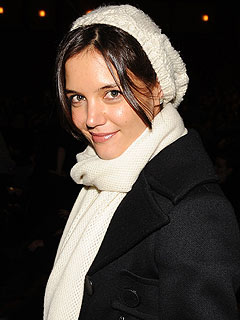 Scared of things that go bump in the night – especially after starring in the new horror movie
Don't Be Afraid of the Dark
–
Katie Holmes
admits she's, well, afraid of the dark.
"When I read this script, I was scared and I had to turn on all the lights in my house," the actress, 32, tells New York's
Daily News
. "I thought I heard noises. And I held my child [Suri] really close."
Particularly putting Holmes on edge, she says, are the furry creepy crawlers in the movie, which comes from the fertile imagination of
Pan's Labyrinth
filmmaker Guillermo Del Toro.
"I for one don't enjoy animals of that size, so this is particularly personal for me," Holmes tells the paper, with a grin. "The monsters, the creatures could invade any of our houses, which makes it scarier."
Still, the smile was apparently wiped from her face when she recently saw the finished film. Now, she says, "I usually sleep with the lights on."
Entertainment Plaza - TV, Movies, Sports, Music
http://members.shaw.ca/almosthuman99
Babe Of The Month
http://members.shaw.ca/almosthuman99/babeofthemonth.html
Hunk Of The Month
http://members.shaw.ca/almosthuman99/babeofthemonthman.html