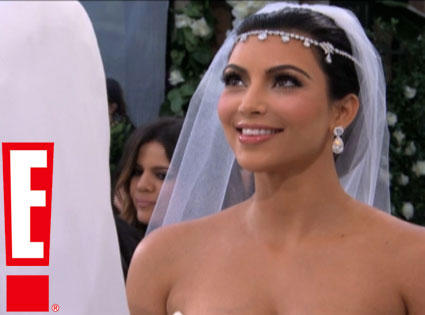 It was a fairy tale come true.
Kim Kardashian and Kris Humphries exchanged vows on Saturday before 450 guests, and we've got the story on the ceremony, the dress, the star-studded attendees, plus video, photos and everything else.
Click in to get all the scoop on the big day...
New exclusive video on a special edition of E! News Monday at 7 p.m. ET/PT. Plus, all the official photos from Kim's big day will be in the Sept. 5 issue of People, on sale nationwide this Friday.
• Get all the details about the gorgeous ceremony, the guests and the most touching moments.
• Find out the inside scoop on the big event, plus the dish on the dress and much more!
• Read all about what happened at the star-studded reception!
• Want to know who was invited?
• See footage of Kim's last-minute preparations
• View a gallery with highlights from the ceremony and the big day.
• Check out video of the party favors!
• Want to know what happened as the guests arrived? Read it here!
• Share the excitement and some sweet words with the Kardashian family.
• The newly married couple leave their hotel the day after the big event.
• See what Kris Humphries tweeted just before the ceremony.
• Read Kim's post-wedding thankful thoughts
• What did the well-wishers wish? Well, we've got that right here!
• Did you know these five things about the ceremony?
• Relive the couple's courtship in a romantic gallery
• Want even more? Get the complete scoop, fresh news and breaking updates in our Kim's Fairytale Wedding section
Entertainment Plaza - TV, Movies, Sports, Music
http://members.shaw.ca/almosthuman99
Babe Of The Month
http://members.shaw.ca/almosthuman99/babeofthemonth.html
Hunk Of The Month
http://members.shaw.ca/almosthuman99/babeofthemonthman.html