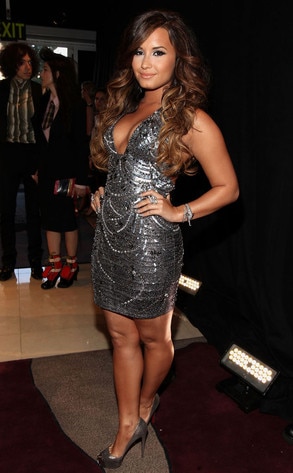 Demi Lovato is choosing to rise above. Just like a skyscraper, really.
The 19-year-old singer had a few choice words for the haters who felt compelled to criticize Lovato's weight after giving her the old once-over at the MTV Video Music Awards on Sunday.
Guess who doesn't give a crap about what you say, folks?!
"Guess what, I'm healthy and happy, and if you're hating on my weight you obviously aren't. :) #UNBROKEN," Lovato tweeted last night after the less favorable reviews of her appearance started popping up online.
The young lady has been powering through a lot lately, and we're glad to see she's still running on a full tank.
Incidentally, we're happy to do out part: Lovato is in the running for our best-dressed-of-the-night poll after impressing in her plunging silver minidress by Mandalay.
Hey, we know hot when we see it.

Entertainment Plaza - TV, Movies, Sports, Music
http://members.shaw.ca/almosthuman99
Babe Of The Month
http://members.shaw.ca/almosthuman99/babeofthemonth.html
Hunk Of The Month
http://members.shaw.ca/almosthuman99/babeofthemonthman.html