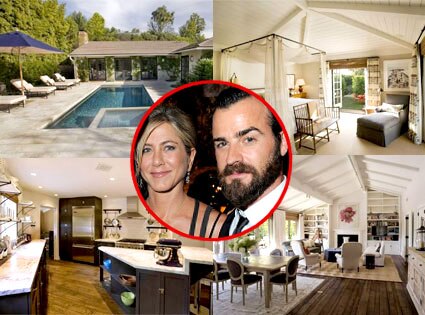 Well, isn't this just the right place for a quietly cohabitating couple?!
Jennifer Aniston hasn't come right out and admitted it yet, but she and her apparently rather serious boyfriend, Justin Theroux, are reportedly leasing a house together in the Hollywood Hills.
At 1,761 square feet, it's a relative cottage compared to the 10,000-sqare-foot digs in Beverly Hills that Aniston recently unloaded for $38 million, but...it's home for now.
Want to know more?
Until they buckle down and buy together, a source tells E! News that Aniston and Theroux are paying $17,500 per month for a gated two-bedroom (Courteney Cox can stay over any time!), two-bathroom house located among the Hills' famous Bird streets.
The older charmer was built in 1949, per Realtor.com. The garage has since been converted into an office, and there are hardwood floors and vaulted ceilings throughout. French doors lead out to a grassy yard that boasts a new ozone pool and spa and a deck with city views.
Keanu Reeves, Leonardo DiCaprio and Jodie Foster are among the couple's famous neighbors. Labor Day weekend barbecue, anyone?!
Entertainment Plaza - TV, Movies, Sports, Music
http://members.shaw.ca/almosthuman99
Babe Of The Month
http://members.shaw.ca/almosthuman99/babeofthemonth.html
Hunk Of The Month
http://members.shaw.ca/almosthuman99/babeofthemonthman.html