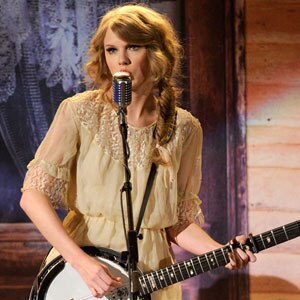 Lately, it seems the only thing more fun than attending a Taylor Swift concert is seeing what famous face is going to show up next.
Whether it's Justin Bieber stopping by to join the songstress for a duet of his hit "Baby," or Jason Mraz making an appearance so that he and Swift can perform his tune "I'm Yours" together, Swift's L.A. shows have certainly been entertaining.
And last night was no exception as a certain talk show host threw her dancing sneaks on and made her way over to the Staples Center.
So, who was the evening's big surprise guest?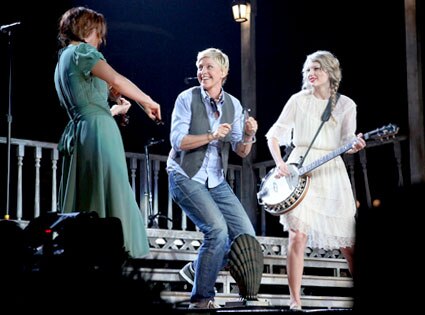 "I was looking for the ladies room. I'm so sorry," DeGeneres joked to Swift amid cheers from the crowd.
"This has been happening quite a bit," Swift quickly pointed out. " People are just going about their daily lives and they end up on our stage."
The singer was more than happy to have DeGeneres stick around and play the triangle as she performed "Our Song."
However, this wasn't exactly the only surprise that folks in the audience received. Swift was also joined by Nicki Minaj for a duet of the rapper's "Super Bass" on Sunday evening as well.
Wow. It was almost enough to make you forget the VMAs were happening right across the street!
Entertainment Plaza - TV, Movies, Sports, Music
http://members.shaw.ca/almosthuman99
Babe Of The Month
http://members.shaw.ca/almosthuman99/babeofthemonth.html
Hunk Of The Month
http://members.shaw.ca/almosthuman99/babeofthemonthman.html