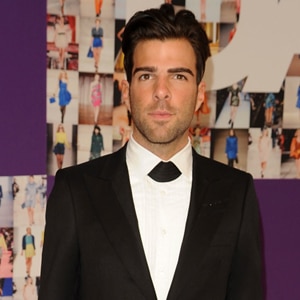 Hey math whizzes, help us figure this one out. When you take TV's creeptastic Sylar and add him to the scariest show ever, starring one of the best TV actresses ever, Connie Britton, what does it all add up to?
That's right. Scary goodness!
Sources confirm that Zachary Quinto (Heroes, Star Trek) is coming to Ryan Murphy's new FX thriller American Horror Story this fall.
So any chance Sylar and Mrs. Taylor will be getting it on?
Steerike!
As first reported by Deadline, Quinto is playing a gay character this time around—namely, a guy named Chad who is a previous owner of the haunted house now occupied by Britton's character and her onscreen hubby Dylan McDermott.
Quinto will appear in at least four episodes, include a special Halloween arc. He will first appear on Oct. 26 in AHS' regular timeslot and then FX plans to air a special episode, which includes Quinto's character, on Halloween night.
Heroes fans, you excited to see Sylar again?
Entertainment Plaza - TV, Movies, Sports, Music
http://members.shaw.ca/almosthuman99
Babe Of The Month
http://members.shaw.ca/almosthuman99/babeofthemonth.html
Hunk Of The Month
http://members.shaw.ca/almosthuman99/babeofthemonthman.html