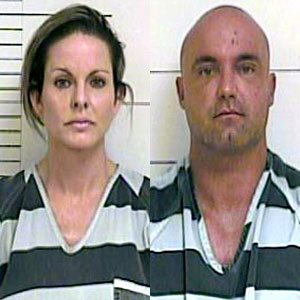 Bankruptcy, brawls, backstabbing—the drama never stops on the Real Housewives of New Jersey.
Case in point: One dad may or may not have burned his own house to the groud, scammed a huge insurance payout as a result and then quickly spent all the dough on jewels and plastic surgery for his new wife.
John Madison "Matt" Holmes, Jacqueline Laurita's ex and baby daddy to her 20-year-old daughter Ashlee, was arrested on suspicion of arson, insurance fraud and money laundering, E! News confirmed Friday.
Exactly how much trouble is he in?
Well, these troubling allegations go back to the spring, when he was first suspected of burning his house down to collect the insurance money.
Holmes and his current wife, Jodi Sue Holmes, were arrested in their current home state of Texas in connection with the suspected arson, which happened in March.
After a fire completely destroyed the duo's home, authorities say they discovered that Holmes had been hanging around at the house for 30 to 45 minutes before he called the fire department for help.
According to Weatherforddemocrat.com, a witness told police afterward that Holmes started the fire with kerosene and gasoline, after which the local fire marshall and the FBI were on the case.
In the meantime, Holmes and his wife had collected $429,000 in insurance money, which investigators allege they used to buy plastic surgery and jewelry instead of a new house.
Bail was set at $225,000 for Holmes and $75,000 for his wife.
Holmes' daughter Ashlee, who tends to display brat-reminiscent behavior on TV, took to Twitter to defend her dad.
"FYI- my parents have NOT been indicted...this whole thing was started by a disgruntled employee...they are INNOCENT and that's all I have to say," she wrote.
Holmes' appeared on last Sunday's episode of the show alongside Ashlee and Jacqueline, who staged an intervention because she apparently was sleeping in every morning and partying every night.
Entertainment Plaza - TV, Movies, Sports, Music
http://members.shaw.ca/almosthuman99
Babe Of The Month
http://members.shaw.ca/almosthuman99/babeofthemonth.html
Hunk Of The Month
http://members.shaw.ca/almosthuman99/babeofthemonthman.html