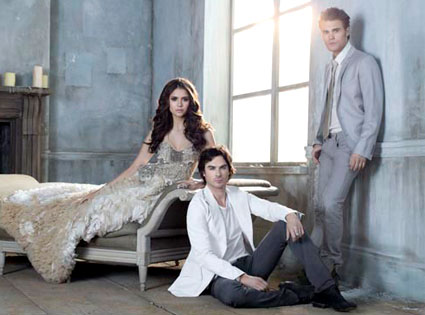 For a show that thrives on showcasing the dark sides of their characters (Klaus be crazy), seeing the three stars looking so angelic is a bit of a change for us.
Not that we're complaining, because Ian Somerhalder, Nina Dobrev, and Paul Wesley look absolutely gorgeous in our exclusive first look at this Vampire Diaries season three promo shot. But the light clothes and sunshine-filled room is the opposite of the TVD atmosphere were used to, no? Perhaps season three will be more about happiness and high school fun and less about hearts being ripped out (physically and emotionally). Probably not, and that's fine with us.
TVD, don't go changing one bit.
Now if you guys could be so kind and help us decide who of the holy trinity looks the most beautiful, we'd be forever grateful. Tough choice, we know. But these are life's questions that are begging to be answered...
Which Vampire Diaries star looks the sexiest in their new photo shoot?
TVD's season three premiere on Sept. 15.
Entertainment Plaza - TV, Movies, Sports, Music
http://members.shaw.ca/almosthuman99
Babe Of The Month
http://members.shaw.ca/almosthuman99/babeofthemonth.html
Hunk Of The Month
http://members.shaw.ca/almosthuman99/babeofthemonthman.html