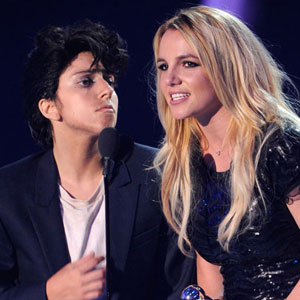 Is it just us, or are the MTV Video Music Awards finally showing their age? Because the biggest story to come out of last night's show wasn't a shocking same-sex kiss, a gestating pop star, an interrupted acceptance speech or a particularly outrageous opening monologue (mostly because there was no host to deliver such a watercooler moment—something of a jaw-dropper itself).
Instead, the ceremony may just go down as being the most expensive and elaborately attended baby announcement of all time (congratulations, Beyoncé and Jay-Z! Enjoy what's left of your reign, Suri).
Still, despite the superstar's baby bump casting a massive shadow over the rest of the evening's goings-on, there were still plenty of things that had us glued to our seats last night. So in case you didn't tune in (in which case, your name might be Adam Levine), here are the five biggest jaw-droppers from last night's show:
1. Lady Gaga Was a Real Drag: There was no compostable clothing, perilously high platforms or view-blocking hairdo to be seen from Lady Gaga. In fact, there was no actual Lady Gaga to be seen, period. Instead, the superstar outdid herself yet again by sending her alter ego, Jo Calderone, to open the show in her stead, and managed to stay in character as the greasy-haired, rolled T-shirt-sporting lover boy throughout the duration of the show—and yes, that included when she hugged Kanye West (for winning, ironically, Best Female Video), while bopping in the audience to Beyoncé's "Love on Top," and even while presenting the Video Vanguard Award to Britney Spears.
It was during the latter when she gave Britney a serious once-over and even tried to plant a kiss on the winner's lips—something she nearly got away with.
"I've done that already," Britney said, pulling out of the smooch at the last minute. But while Britney proved game (enough), even better than watching Jo ramble around the stage for the first five minutes of the broadcast was watching the quizzical, bemused and increasingly confused celeb reactions caught during cuts to the audience. Well done, Gaga.
2. MTV Is Still (Sometimes) About the Music: We know—shocking, right? But all it took was a girl and a piano to bring this fact home. When Adele took the stage to perform her understatedly stripped-down and hugely impactful performance of "Someone Like You," there were no pyrotechnics, no acrobatics, no lavender hair, and no autotune. And guess what? We didn't miss it. There may be hope yet for MTV to remember just what the "M" in their name actually stands for.
Of course, what the music channel giveth, it also taketh away, as evidenced by Chris Brown's all-dancing, all-decade-spanning, all-Spider-Man-channeling performance. Forgive us for thinking that someone singing at the VMAs should actually, you know, sing. (And judging by his increasingly endearing refusal to clap, stand, dance or acknowledge Brown's performance in any way whenever a camera cut to him in the audience, we think Jay-Z is with us.)
3. Kanye Kept It Together: If there was one person we thought we could count on for a little injection of mid-show juice, it was Kanye West, but apparently he didn't get the memo, because Yeezy was on his best behavior all night long. There were no diva fits or interrupting of speeches, even though Katy Perry did cheekily make sure and recall his 2009 Taylor Swift-accompanied outburst while they accepted an award together.
"Now this is a time where you want to interrupt me, Kanye," she said. His response? Not a dirty look or even a rolled eye (though he'd be forgiven for either): simply a nod and knowing chuckle. Add to that his obvious excitement while performing "Otis" with Jay-Z, and his jumping up and down reaction in the audience after Beyoncé revealed her belly onstage, and you have the makings of the night's Most Valuable Attendee.
4. The Hunger Games Left Us Hungry: Not all jaw-droppers are jaw-droppers in a good way. Sure, there was nothing technically wrong with the exclusive sneak preview shown last night, yet still, it left more than a little to be desired. It was always going to be short and it was just a tease—but we expected more than a shot of trees, some archery and a fireball to get us amped up for Twilight's heir apparent. Anyone else?
5. Cue the Censors: Maybe it was because there was no host that the performers and award winners felt the need to up the edge quotient last night. Whatever the reason, the show certainly seemed to be the most-bleeped in recent memory. It started off innocently enough, what with Justin Bieber naming his snake "Johnson" on the red carpet (uh, we hope that wasn't a euphemism, Biebs). Then out strolled a potty-mouthed Jo Calderone. And let's not forget the apparently DTF Cloris Leachman, and her bleeped-out presentation with the girls of Jersey Shore. Or Tyler, the Creator's, clearly emotional yet obscenity-laced acceptance speech.
But the most bleeped of the night has to go to Lil Wayne, whose show-closing performance just seemed to get more foul-mouthed (and he more naked) as the minutes rolled on, until there were more beeps than actual lyrics coming through the speakers. Hey, you guys kiss your trophies with those mouths?

Entertainment Plaza - TV, Movies, Sports, Music
http://members.shaw.ca/almosthuman99
Babe Of The Month
http://members.shaw.ca/almosthuman99/babeofthemonth.html
Hunk Of The Month
http://members.shaw.ca/almosthuman99/babeofthemonthman.html