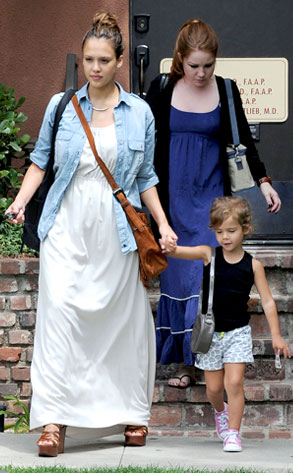 Pregnancy? What pregnancy?
It's only been two weeks (yes, two weeks!) since Jessica Alba gave birth to her second child, Haven, but you'd never know it looking at the stunning star as she made her way around L.A. this weekend with her oldest daughter, Honor.
Then again, it seems like the now mother of two has had plenty to keep her active lately.
"Flood -sick toddler -newborn -too many ppl n animals living in 3 bedroom=another day in the Warren household," Alba tweeted on Friday.
But the actress did manage to briefly break away from diaper duty and everything else that comes with family life. On Saturday, she and husband Cash Warren enjoyed a little date night and hit up West Hollywood hotspot Matsuhisa for a bite.
Well deserved, for sure.

Entertainment Plaza - TV, Movies, Sports, Music
http://members.shaw.ca/almosthuman99
Babe Of The Month
http://members.shaw.ca/almosthuman99/babeofthemonth.html
Hunk Of The Month
http://members.shaw.ca/almosthuman99/babeofthemonthman.html