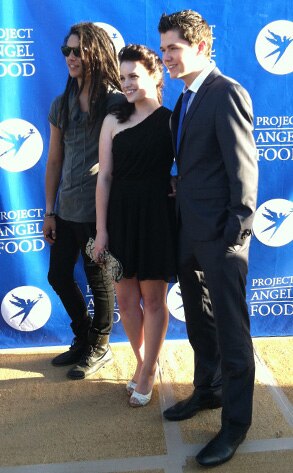 The winner of The Glee Project is…we don't know.
And we won't find out until the series finale airs tonight.
But that didn't stop us from asking who won when we caught up with Samuel Larsen, Damian McGintry and Lindsay Pearce last night in Hollywood…
The three (Alex Newell couldn't make it) were on hand to perform at Project Angel Food's Angel Awards, where Glee and The Glee Project producer Dante Di Loreto was honored along with Lisa Lillien, host of Hungry Girl on the Food Network and Cooking Channel.
"I have a lock on my mouth and I don't know where the key is," Pearce said.
OK, if we couldn't get them to spill on that, how about what they think the first day on the Glee set could be like? "You go into the corner and shiver and tremble with fear," McGintry said. "It'll be quite intimidating being there with a cast that's been together for three and a half years."
Larsen said, "I would imagine it to be like the first day of school. You're going to be thrown in a garbage can like any freshman."
Who does he imagine to do the throwing? "Probably Mark [Salling]," he cracked.
Pearce joked that she thinks initiation by a real slushie is in order. "There will definitely be nerves, but I would assume if you're there then Ryan [Murphy] wants you there and you deserve to be there," she said. "You just have to breathe."
Not that a slushie would be that bad. Don't forget they already lived through the experience as part of a Glee Project challenge.
Also at the Angel Awards were Murphy, the incredible-looking Jessica Lange, Sarah Paulson, Anthony Edwards, Leslie David Baker of The Office and NCIS star Pauley Perrette.
PS: Check out Marc's video of Lange, Paulson and Di Loreto over at his YouTube channel.
Entertainment Plaza - TV, Movies, Sports, Music
http://members.shaw.ca/almosthuman99
Babe Of The Month
http://members.shaw.ca/almosthuman99/babeofthemonth.html
Hunk Of The Month
http://members.shaw.ca/almosthuman99/babeofthemonthman.html