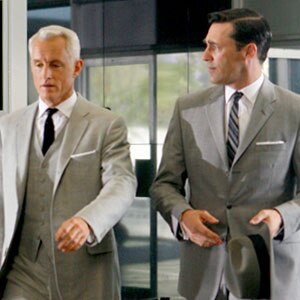 Jon Hamm isn't just Mad Men's smokin'-hot leading man.
He's now one of the hit series' directors.
As you may have heard, Mr. Hamm has gone behind the camera to direct an episode of the upcoming new season.
So how'd he juggle acting and calling the shots? Read on to find out...
"He did pretty damn well," costar and one-time Mad Men director John Slattery told us at the Academy of Television Arts & Sciences' Performers Peer Group 2011 Emmys cocktail reception at L.A.'s Sheraton Universal Hotel.
"Nobody was surprised at how well he would do," he said. "He's a very smart guy. He knows the show better than any of the actors certainly because he's there every day and he's in every scene...And he gives good direction. And he's an actor so he knows how to give you something specific and brief that's useful."
The toughest part of pulling double duty? "The struggle is to get through the day," Slattery said. "I mean getting all the work done before the bell rings. That's the trick with directing television. You want to get performances. You want it to be as good as possible. It's hard to get it all finished in the allotted time."
We can't wait to see Jon's finished work when the series returns!
Entertainment Plaza - TV, Movies, Sports, Music
http://members.shaw.ca/almosthuman99
Babe Of The Month
http://members.shaw.ca/almosthuman99/babeofthemonth.html
Hunk Of The Month
http://members.shaw.ca/almosthuman99/babeofthemonthman.html