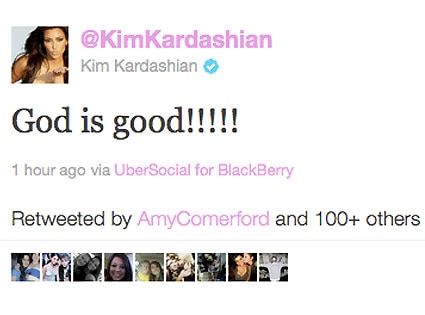 Kim Kardashian apparently woke up with a smile on her face—if she ever went to bed after celebrating late into the night!
"God is good!!!" the newlywed tweeted this afternoon, her first tweet as a married woman. She followed up a little later with, "Happy Birthday @BrodyJenner OMG our laugh attack last night I think freaked out @AvrilLavigne HAHA!" Sounds like someone had a ball...
The E! star swapped vows with basketball pro Kris Humphries last night in Montecito, Calif., in an elegant, traditional ceremony. Afterward, their 450-plus guests joined the couple for dining and dancing in a tent set up on the grounds of the private estate where they said their I-dos.
And judging by the post-party tweets, the guests had a blast and Kim looked amazing.
"Wowwwwww! What a wedding!! Beyondddddd. Love kimbo," longtime Kardashian pal Brittny Gastineau wrote late last night. And hers was just the tip of the tweet berg:
• Ryan Seacrest, when asked how the festivities stacked up: "Beautiful..kim looked regal, a perfect night.I just danced w the whole family"
• Eva Longoria: Congratulation @kimkardashian and Kris! What a beautiful night! God bless your union!!
• Rob Kardashian, this morning: "Going back home from SB. Beautiful times with lots of Beautiful Women. #WeddingCrasher." He later added, "Happy Birthday to my Brother @BrodyJenner! Last night was so much fun at the Wedding and so good to have all 10 kids together!" (Today is Brody's 28th birthday.)
• Kendall Jenner: "Happy birthday @brodyjenner!!! I love you bro! Had a great time last night. Loved having all ten kids together!"
• Kaela Humphries, Kris' sister: "I had so much fun seeing family and friends this weekend! Sad it is over:("
• Lisa Gastineau: "@KrisJenner you and your entire family looked soo beautiful & u did such a spectacular job on the wedding! ..."
• Larsa Pippen, wife of former Chicago Bulls star Scottie Pippen: @KimKardashian was gorgeous!!! The wedding was crazy fun"
• Vera Wang: "Wow! @KimKardashian What a joyous, beautiful, magical night! Wishing you and Kris all the blessings in the world xxVera"
• Simon Huck, The Spin Crowd: "Wedding of the century!! No words! Love u guys... Night night"
• Jonathan Cheban, The Spin Crowd: "NOW that is what I call a wedding...Style, Elegance, Sophistication and Glamour! @KimKardashian @KrisHumphries Congratulations LOVE u guys!"
• Kai Milla, designer: "Had an AMAZING time at Mr & Mrs Humphries wedding! @KimKardashian u looked Stunning!!!"
• LaLa Vasquez: "Such an amazing night!! I had the best time! Congrats @KimKardashian and @Krishumphries aka Mr and Mrs Humphries!"

Entertainment Plaza - TV, Movies, Sports, Music
http://members.shaw.ca/almosthuman99
Babe Of The Month
http://members.shaw.ca/almosthuman99/babeofthemonth.html
Hunk Of The Month
http://members.shaw.ca/almosthuman99/babeofthemonthman.html